---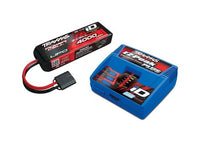 Traxxas VXL Brushless models are 3S/2S LiPo compatible; XL-5 Brushed models are only 2S LiPo compatible! Keep this in mind when choosing a battery for your Traxxas model.
This is the Traxxas EZ-Peak Multi-Chemistry Battery Charger System with an included "Power Cell" 4000mAh LiPo battery. This charging system uses the Traxxas iD Battery Identification System and is a great solution when you need a battery and charger for your Traxxas vehicle that runs one 3S LiPo battery.

iD Simplicity
With iD Auto-Battery Identification there's no need to worry about the battery chemistry or capacity. The Traxxas iD battery system is the easiest and safest way to charge your Traxxas batteries. The EZ-Peak Plus recognizes Traxxas iD batteries and in an instant automatically configures and optimizes the charger settings. There's no need to be a battery expert or learn how to navigate complex menus. Just plug in a Traxxas iD battery and the EZ-Peak Plus does all the work for you. The integrated balance connector on Traxxas LiPo iD batteries eliminates fragile balance wires and connectors, along with the need for external balance boards. At the press of a button, the EZ-Peak Plus' Storage Mode protects your LiPo battery investment by safely preparing the batteries for extended storage. 4-amp fast charging and advanced high-resolution peak detection deliver a perfect charge every time. The EZ-Peak Plus is backed by the Traxxas Lifetime Electronics Manufacturer Warranty for years of reliable service.