---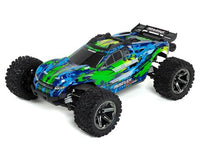 Sale
The Rustler 4X4 VXL is a hard-charging machine that captures the speed and classic style of the number-one-selling Rustler and injects it with brutal 4-wheel drive performance, increased durability, and even more fun! Bury the throttle and the Rustler 4X4 launches its front wheels skyward as it shreds the ground underneath.
Updated Chassis
The low-CG chassis positions the weight low for aggressive handling. The wheelbase has been lengthened 20mm for the perfect balance of stability and quick response. 
Self-Righting
The Rustler 4X4 VXL uses Traxxas' patented Self-Righting feature to keep the fun going, even when you get carried away with the wheelies or land that big trick upside down. Simply press a button on the TQi transmitter and, in most circumstances, the Rustler 4X4 VXL will be back on its wheels in just seconds.