---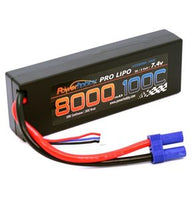 2S 7.4V 8000MAH 100c (200C burst) Lipo Battery with Hardwired EC5 Connector

Designed for those who want to push their brushless 1/10 & 1/8 scale vehicles to the limit, this 2S battery lets you take full advantage of your power system. Features a huge capacity for extended runtimes, and a 100C rating for lots of power. Competitively priced, this lipo is a great combination of features and value.

Warranty:
This LiPo Battery Pack is guaranteed, under warranty, against defects in materials and workmanship upto 6 Months from the day of purchase from original manufacturer.
This warranty does not cover physical damage to the battery pack as the result of a crash, hard landing, improper mounting or any deformity caused by the user. This warranty does not cover internal damage to the battery pack due to overcharging, deep discharging, or excessive discharge current.


Specifications:
Length : 138.55 mm
Width : 47mm
Height : 25mm
Balance Plug: EC5
Weight :11.8 Ounces