---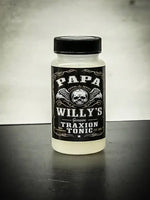 The Clear Tonic was developed to be used as a prep activator, by letting the rubber open and allow the Traxion Tonic of your choice to go deeper into the carcass of the tire. This allows new tires to come in faster and allows older tires to mature with age.
• To use as Prep Activator: apply generously to tires 1-5 minutes before applying your favorite Papa Willy's Traxion Tonic. PW Clear dries in extremely fast, allowing the prep to go deeper into the tire for even longer lasting, more consistent runs.
• To use for new tire break-in: After scuffing in tires, apply Papa Willy's Clear Tonic evenly to the tires. After drying, apply your Papa Willy's Traxion Tonic of choice and bag the tires wet.
• To use as tire prep: Apply Papa Willy's Clear as you would any other Papa Willy's Traxion Tonic IMMEDIATELY before running. Papa Willy's Clear dries extremely fast. Although PW Clear was never intended as a tire prep, some racers have found success using it as a stand-alone prep during our pre-release testing.
WARNING: PLEASE READ
Papa Willy's Traxion Tonic is a blend of chemicals that enhances the traction on RC car tires. Do not take internally. Do not use in eyes. Avoid contact with skin. Not intended for children. Use precautions when using. By purchasing this product the user assumes all liability associated with miss use of this product.