---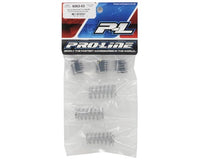 This is the Pro-Line PowerStroke Shock Spring Tuning Set and is intended for use with the Pro-Line PowerStroke shocks. Take your PowerStroke shocks to the next level with Pro-Line's Spring Set. Now you can adjust ride height and spring rates almost infinitely with these color coded dual-rate springs. Kits include six primary (short) and six secondary (long) high quality springs with color coded stripes to reference rates.
Features:
Six Primary Springs (black/short)

Six Secondary Springs (silver/long)

Color coded stripes to identify rates

Spring rate chart available showing all possible combination's and effective primary/secondary rates.
What's included:
Primary Springs:

Super Soft 3.7 lb in (2)

Medium 7.3 lb in (2)

Firm 9.5 lb in (2)

Secondary Springs:

Super Soft 3.5 lb in (2)

Soft 4.8 lb in (2)

Firm 8.1 lb in (2)